Posted by
Re
in
Culture
,
Gender
, tags:
Culture
,
gender
,
moustachemay
,
norms
,
reflective
,
thoughts
I'm having a good day today. That means that I have the available emotional resources to cover a topic that might normally be a bit too much for me to bear.
Something shitty happened to a friend today. On the website Moustache May, participants sign up and show off their moustaches for the month of May. On the "about" page, the creator states that females may participate, given that they prove that they wear a moustache for the entire month.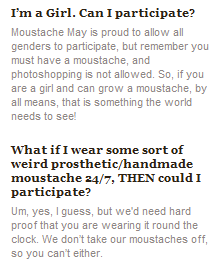 One of my friends decided to participate this year. This friend is a cisgender female, and over the past few days she's had to deal with a wide variety of responses. Today, she was demoted from 'participant' to 'lurker'.
This doesn't seem right, especially considering the fact that the website specifically states that females may participate.
Additionally, most females have facial hair. For a long long time they have been undergoing painful procedures to remove said facial hair. This is the sort of thing that may perpetuate this process and make it hard for females to accept themselves as they are. Since females are unable to embrace their own face follicles, they will continually try new ways to rid themselves of said hair.
It just doesn't seem right. I would really appreciate any comments outlining your thoughts on this matter.

1 Comment »